Cities & Countries of the World.
We are from Salavat, Bashkortostan, Russia.
Hello! We are pupils of the 7th form school # 16 and students of Salavat Pedagogical College. We live and study in the town of Salavat, it's situated in Bashkorostan, Russia. We've got a task to write a letter to a foreign friend about our town at our English lesson, so we decided to send it to you. We will be glad to think that other people will know about our town and we are looking forward reading something about our neighbours on the Earth too.
Your friends from Salavat.
33 Kalinin Street, Flat 53
Salavat, Bashkortostan
Russia
---
"My Native Town"
Dear Friend,

Hi! How are you? In my letter I want to tell you about my native town. My town is not large. 158 thousand people live in it. Different zoos, circuses come to our town. There are a lot of cinemas and museums. I like to walk along the streets of the town. At every corner there are shops and many dwelling houses.
Our town is famous for the Belaya river. In summer we bathe in the river. In our town there is a church. It's very pretty. There are two stadiums and many sport grounds in Salavat. We have different ways of transport: taxi, buses, trams. I like to walk in the park. You can see a lot of children in the park and in the streets, because they like to walk and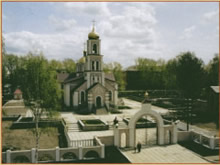 to play out of doors. My town is very pretty, you can see it from the pictures. I love my town.

Please, write me about yourself and about the place you live in.

Best regards to your family.
Your friend,
Olesya.
27, Kosmonavtov Avenue
Salavat, Bashkortostan
---
Salavat.
My town Salavat is situated in the central part of the republic of Bashkortostan.

The Belaya river flows over my town.



The history of Salavat began in the year 1948, with the extraction of oil. About fourteen thousand people works on the plant.

Salavat is also the centre of the industrial and cultural life of Bashkortostan.

There are a lot of palaces of culture, monuments and other sights.


My town Salavat is very beautiful though it is very small.
Your pen-friend,
Rustam.
11, Goubkin Street
Salavat,
Bashkortostan
---
Dear Friend,
Hi! How are you? I want to tell you about my town.

I live in Salavat. It is situated on the river Belaya.

This town is not big, the population is about 158 000 people.



This monument to our national hero Salavat Yulaev you can see when you come to our town.




There is the "October" cinema, the palace of sport, the park where are many amusements and the swimming-pool. There are 26 schools.




The people of Salavat are very polite. I like to live here.
Please, write me soon,
Kristina